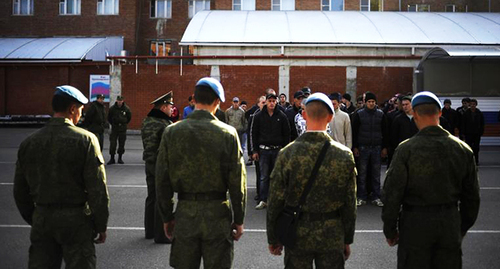 19 October 2022, 23:34
Practice of punishment by sending to front spreads beyond Chechnya
The case of sending to the front a resident of Novocherkassk, who apologized for damaging patriotic banners, was a continuation of the practice begun in Chechnya of sending men to the zone of the special military operation after their criticism of the mobilization, human rights defenders pointed out.
The "Caucasian Knot" has reported that in September, the law enforcement bodies instituted criminal cases on discrediting the Russian Armed Forces after the banners with portraits of participants in the special military operation in Ukraine had been damaged in Rostov-on-Don and Novocherkassk. On October 16, a man was detained in the case on the damaged banners. Lawyers pointed out that the man's act could be qualified both under criminal and administrative articles.
After the announcement of the mobilization in Russia, Chechen women attempted to hold a protest in Grozny on September 21. In response, the Chechen authorities mobilized relatives of a number of the protesting women. On October 2, Ramzan Kadyrov announced that 24 relatives of the women who tried to hold a rally in Grozny had been sent to Ukraine.
A video with an apology from a resident of Novocherkassk was posted on the "What's in Rostov?" Telegram channel. The young man said that he "committed a number of illegal acts in relation to the banners depicting the heroes of the special military operation"" According to the young man's version, he poured paint to the banners "out of inner conviction" and was later detained. "Now I have realized the perniciousness of my actions. I apologize to the relatives of the dead heroes and residents of the Rostov Region. I made a voluntary decision to take part in the special military operation as a military doctor," the young man said on the video.
The description of the video says that the man detained for damaging the banners is a 32-year-old neurologist from the Novocherkassk hospital.
Svetlana Gannushkina, the chair of the "Civic Assistance Committee"*, considered the above format of apologies and the allegedly voluntary departure to Ukraine to be a complete copying of the practice of public censure and sending to the zone of the special military operation, applied to the husbands of participants in the protest action against the mobilization in Chechnya.
Svetlana Gannushkina believes that the case in Novocherkassk shows that the described practice takes root not only in Northern Caucasus, but also in the regions of Southern Russia.
*The organization has been included by the Russian Ministry of Justice (MoJ) in the list of NCOs performing the functions of a foreign agent.
This article was originally published on the Russian page of 24/7 Internet agency 'Caucasian Knot' on October 19, 2022 at 05:15 pm MSK. To access the full text of the article, click here.
Author: Roman Kuzhev Source: СK correspondent