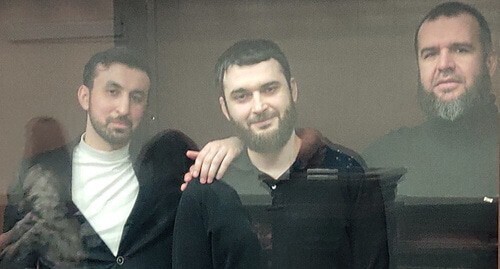 15 November 2022, 15:43
Colleagues of Abdulmumin Gadjiev, Dagestani journalist, indicate falsifications in his case
The case about financing terrorism, initiated against Abdulmumin Gadjiev, Kemal Tambiev and Abubakar Rizvanov, is based on testimonies of classified witnesses and those who are serving long prison terms, while other witnesses claim that unreliable information was put into their testimonies. This was stated by Idris Yusupov, a journalist, and Magomed Magomedov, a deputy editor-in-chief of the "Chernovik" (Draft) weekly.
The "Caucasian Knot" has reported that Gadjiev's colleagues treat his criminal case as politically motivated prosecution and are regularly holding pickets in Makhachkala in his support. Thus, on November 14, two pickets were held by Magdi Kamalov, the founder of the "Chernovik", and Idris Yusupov, a journalist of "Novoye Delo" (New Cause) outlet.
The pickets attracted the attention of passers-by and policemen, Mr Yusupov has stated. According to his story, law enforcers asked whether there were political prisoners in Dagestan. Idris Yusupov explained to them that any person can be prosecuted for his/her position. "Any person who expresses his thoughts disliked by authorities can be searched; and narcotic drugs or weapons can be found on him/her. Such person can be treated as a political prisoner," he has explained.
Mr Yusupov has added that many witnesses stated at the trial that their testimonies against the defendants had been corrected. He has also stressed that the witnesses' testimonies are not about Gadjiev, Rizvanov and Tambiev. "They mainly concern the activities of Israil Akhmednabiev and his fund aimed at fundraising. In fact, we find nothing to confirm the defendants' guilt," Idris Yusupov has stated, while drawing attention to testimonies of classified witnesses, which contradict not only the testimonies other witnesses, but also their own ones.
The criminal case has a large number of inconsistencies and the nature of a "concocted" case, Magomed Magomedov, a deputy editor-in-chief of the "Chernovik", has stated.
This article was originally published on the Russian page of 24/7 Internet agency 'Caucasian Knot' on November 14, 2022 at 11:47 pm MSK. To access the full text of the article, click here.
Source: СK correspondent