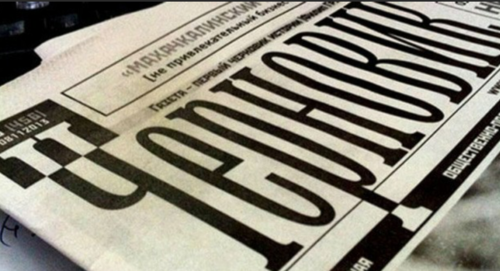 18 November 2022, 23:21
Editorial Board of "Chernovik" announces pressure from Dagestani authorities
The republic's authorities hinder the printing and distribution of the printed version of the Dagestani weekly "Chernovik" (Draft); thus, last week the outlet was not printed due to the printing house's refusal to print the weekly, the editorial board has stated. Its journalists link the increased pressure with the position of Sergey Melikov, the head of Dagestan.
The "Caucasian Knot" has reported that the socio-political weekly outlet "Chernovik" has been published in Dagestan since 2003. The editorial board fears the closure of the outlet after the verdict to the journalist Abdulmumin Gadjiev accused of financing terrorism.
The "Chernovik" fell under pressure immediately after the opening. Circulations were bought out; and kiosk owners were pressed to prevent the appearance of the weekly on the shelves. The kiosks selling the "Chernovik" were set on fire. The editorial board had to constantly change offices because landlords were forced to break renting contracts. Criminal cases were initiated against journalists; and in 2011, Khadjimurad Kamalov, the founder of the outlet, was shot dead.
Journalists said that in March, due to the pressure of the administration of the head of the republic, the printing house stopped cooperating with the weekly. After that, "Chernovik" found a new printing house, the human rights project "OVD-Info"* has reported.
Last week, the weekly didn't appear. According to the journalists of "Chernovik", an employee of the Ministry of Internal Affairs (MIA) came to the Dagestani Information and Press Agency and asked not to distribute the outlet. Besides, Mr Melikov's administration had caused "excessive influence" on the director of the new printing house.
The editorial board has linked the obstacles in printing the weekly with the actions of the republic's authorities, noting that these actions look strange amid the weekly's fight against corruption, law violations and nepotism, which hinder the republic's progress.
This article was originally published on the Russian page of 24/7 Internet agency 'Caucasian Knot' on November 17, 2022 at 11:10 pm MSK. To access the full text of the article, click here.
Source: Caucasian Knot