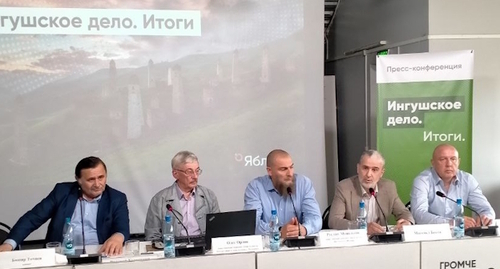 06 September 2023, 22:34
Advocates of Ingush activists point to obstacles to their CER
The likelihood that the convicted Ingush oppositionists will be released on the conditional early relief (CER) is quite small, their advocates believe.
The "Caucasian Knot" has reported that since January 13, 2023, in Pyatigorsk, the Stavropol Territorial Court has been considering complaints against the verdicts passed to Magas seven protest leaders. The activists and their advocates have pointed out that the first-instance court failed to take into account many facts that testify to the defendants' innocence. However, the above court upheld the verdict. The activists' advocates have indicated that the appellate instance had even more tightened the terms of the additional punishment.
The Ingush activists are accused of creating an extremist community and participating therein.
Magomed Bekov, one of the advocates, has pointed out the initial absurdity of the charges.
He has noted that the court had a video from the rally. "Investigators claimed that the defendants had organized the violence, but the video materials said otherwise," Mr Bekov has stated, reminding that psychological and linguistic examinations had been appointed; and all the conclusions were in favour of the activists.
"In the opinion of the court, my client, Musa Malsagov, created an extremist community. But not a single page of the verdict details what Malsagov had done after creating this community," Magomed Bekov has stated.
The fact that there are no proofs in the case was explained by the court by the conspiracy measures used by the defendants. "But whether they conducted these secret activities or not, this has not been proved either," the advocate has emphasized.
What happened on March 27, 2019, was completely spontaneous; no one was preparing this (the rally), Andrei Sabinin, another advocate, has added, stressing that until people were "squeezed out", no one violated the order; and subsequent riots were the result of this "squeezing."
"If we talk about justice, then the verdict is extremely unfair. I think it is aimed at finally curtailing the democratic process in the small Caucasian republic," Mr Sabinin has concluded.
Bashir Tochiev, another advocate, has noted that there is an opportunity to apply to the UN Human Rights Committee; and some of the figurants in the Ingush case are planning to use this tool.
By the law, after serving a half their terms, they have the right to apply for the CER, Magomed Bekov has explained. "And they have all been in custody for more than six years … But, according to the Penal Code, they can apply for the CER only after they have been in the colony for six months upon arrival there," the advocate has explained.
This article was originally published on the Russian page of 24/7 Internet agency 'Caucasian Knot' on September 6, 2023 at 03:31 am MSK. To access the full text of the article, click here.
Source: СK correspondent