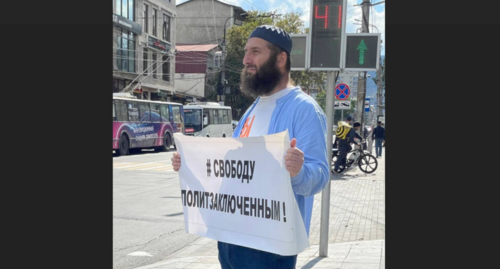 27 September 2023, 21:42
Gadjiev's colleague notes special reaction of Makhachkala residents to demand to release journalist
A solo picket held by journalist Idris Yusupov with the demand to release Abdulmumin Gadjiev provoked an active reaction from passers-by and drivers.
The "Caucasian Knot" has reported that colleagues of Abdulmumin Gadjiev consider his criminal case to be political persecution and hold solo pickets in his support in Makhachkala every week.
On September 25, the solo picket passed without any incidents, and both passers-by and drivers actively responded to it, stated journalist Idris Yusupov. He stood for about an hour and held in his hands a poster with the inscription: "Freedom to Abdulmumin Gadjiev."
Idris Yusupov noted that some passers-by asked him to tell them about the Abdulmumin Gadjiev's case, expressed their support, and took photographs. The journalist emphasized that the reaction of passers-by and drivers to his solo picket was more active than to a similar protest action held a week earlier.
The "other opinion" of Judge Rizvan Zubairov in fact reflects his agreement with the main arguments of the defence, emphasizes advocate Arsen Shabanov. Rizvan Zubairov expresses wonder how the court, without evidence, considered it proven that Abdulmumin Gadjiev helped terrorists by sending them 16,000 roubles.
The very fact that the professional judge expresses the opinion consistent with the defence's arguments is significant when the Abdulmumin Gadjiev's defence appeals to further judicial authorities, emphasizes advocate Arsen Shabanov. At the same time, the advocate notes that in his practice, this is the first "other opinion" of the judge, although it has no legal consequences.
The verdict against Abdulmumin Gadjiev, based on the data voiced by the defence and public prosecution, should only be acquittal, suggests lawyer Mukhammad, a friend of Abdulmumin Gadjiev. According to his version, the public prosecution committed gross procedural violations that make the evidence insignificant.
This article was originally published on the Russian page of 24/7 Internet agency 'Caucasian Knot' on September 26, 2023 at 01:00 am MSK. To access the full text of the article, click here.
Source: СK correspondent