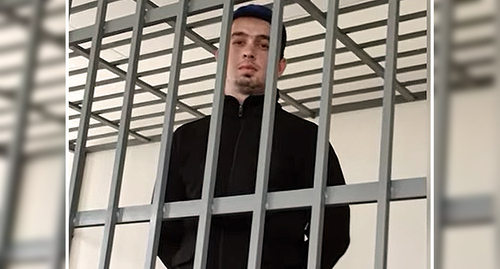 01 October 2023, 22:48
Case of Mansur Movlaev, escapee from Russia, reaches court
The Pervomaisky District Court of Bishkek (the capital of Kyrgyzstan) has received the case of illegal crossing the Kyrgyz state border by Mansur Movlaev, who had fled Russia and complained of persecution by Chechen authorities.
The "Caucasian Knot" has reported that this in August, in Kyrgyzstan, law enforcers detained Mansur Movlaev, a native of Chechnya, who was put on the wanted list in Russia in the case of financing extremism. On September 15, he applied for asylum in Kyrgyzstan.
Movlaev intends to seek a real term of freedom deprivation there, as he fears deportation to Russia, where, according to his story, torture could be used against him, Bakyt Avtandil, his advocate, has explained. Movlaev intends to ask the court to sentence him to the maximum penalty of three years in jail, the "Kavkaz.Realii"* project reports.
"The article on illegal border crossing is not grave; it usually results in a fine and deportation from the country," the advocate has added.
The "Caucasian Knot" has also reported that in 2020 in Russia Movlaev was sentenced to three years in jail; his supporters claim that the case against him was fabricated. Movlaev escaped to Kyrgyzstan from an illegal prison in Russia.
According to sources, in 2022, a case of financing extremism was fabricated against Movlaev; before that, he was kidnapped and kept in prison.
It should be noted here that prosecution of authorities' critics periodically occurs in Chechnya. Thus, in September 2020, a video of a naked Salman Tepsurkaev sitting on a bottle, explaining that he was doing this as punishment for collaborating with the Telegram "1Adat"** channel, caused a wide resonance.
*Included by the Russian Ministry of Justice (MoJ) into the register of foreign agents.
**In July 2021, the Zavodskoi District Court of Grozny treated a number of posts placed in the "1Adat" Telegram channel as extremist and also found the "1Adat" Movement's Internet resources as prohibited; and in May 2022, the Supreme Court (SC) of Chechnya recognized the "1Adat" Movement itself as an extremist organization and banned its activities in the territory of Russia.
This article was originally published on the Russian page of 24/7 Internet agency 'Caucasian Knot' on September 30, 2023 at 08:42 am MSK. To access the full text of the article, click here.
Source: Caucasian Knot