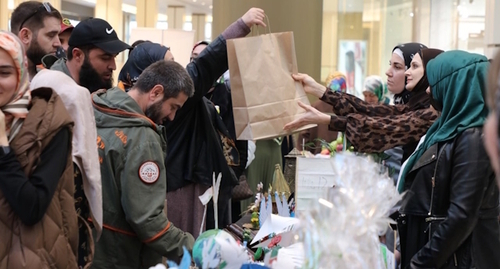 16 November 2023, 21:57
Officials had to spend money on the "Children of Chechnya to Children of Palestine" campaign
Chechen officials had to spend up to a third of their monthly salaries buying children's crafts during the "Children of Chechnya to Children of Palestine" campaign, local government officials said. Parents of school pupils and kindergarten children said that their children made crafts with enthusiasm.
On November 15, Chechen authorities reported that as part of the above charity campaign, more than 68 million roubles were raised, which will be used to purchase humanitarian aid for Palestinians.
An employee of one of Chechen ministries named Abdulla said that he had to spend a third of his salary (10,000 roubles) for a model of a cart, into which a rag donkey was harnessed.
"The children were offered to take the initiative themselves and make sure that their work would attract attention; and people who decided to become participants in the action wanted to purchase their drawing or a product made of wood or clay," said Zharadat Abdrakhmanova, a chief specialist of the preschool education department of the Gudermes District.
Elena Kuznetsova, a lawyer, has noted that involving schoolchildren in political events is illegal.
"The involvement of pupils in politicized actions most often has a pronounced populist nature; and such events are held in adults' interests. Even an indirect participation of preschool children in such actions in Chechnya, in my opinion, is a way of 'zombying' young children, and from a moral point of view this is unacceptable," Ms Kuznetsova has stated.
This article was originally published on the Russian page of 24/7 Internet agency 'Caucasian Knot' on November 16, 2023 at 11:07 am MSK. To access the full text of the article, click here.
Source: СK correspondent