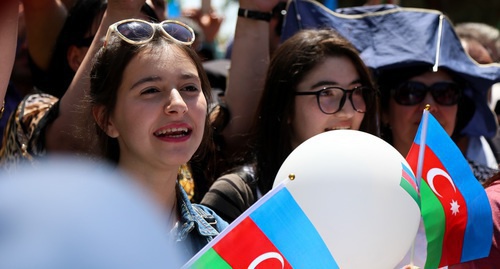 28 May 2017, 23:59
In Azerbaijan, about 2000 people come to opposition rallies
In the Baku suburb of Novkhany, on the Day of the Republic, opposition organizations held rallies at the monument to Mamed Emin Rasulzade, one of the founders of the Azerbaijani Democratic Republic (ADR). At the rallies, the opposition criticized the authorities of Azerbaijan for violating human rights, corruption and oblivion of the values of the republic founded 99 years ago.
The "Caucasian Knot" correspondent reports that according to Nasiman Yagublu, a researcher of the history of Azerbaijan of the early 20th century, the Azerbaijani Democratic Republic was the first republic in the Muslim world.
According to Isa Gambar, the leader of the Centre for National Strategic Thought, in 1991, Azerbaijan restored its independence and declared itself the successor to the ADR.
"However, the current regime, which came to power as a result of the military insurrection, established an authoritarian rule, grossly violating human rights," said Isa Gambar.
He has called on the authorities to release all political prisoners, stop pressure on the media and activists, and put an end to corruption.
Meanwhile, organizers nominated Isa Gambar as a presidential candidate from the "Musavat" Party for the presidential election of 2018.
According to President Ilham Aliev, the authorities of the country and the people have great respect for the activities of the ADR and the memory of its founders.
Full text of the article is available on the Russian page of 24/7 Internet agency 'Caucasian Knot'.
Author: Faik Medzhid Source: CK correspondent