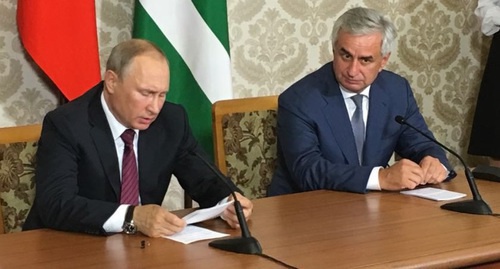 08 August 2017, 22:57
Putin promises 6 billion roubles to Abkhazia for Sochi security
Russian President Vladimir Putin has decided to support Raul Khajimba in the context of the latest events in Abkhazia and to prevent the appearance of a "black hole" near Sochi, political analysts told the "Caucasian Knot". Until 2019, Mr Putin promised to invest 6 billion roubles in Abkhazia, while in 2015 and 2016, Russia allocated nearly 3 billion roubles to the republic.
Earlier, sources reported on Russian president's plans to visit Abkhazia on August 8, the anniversary of the outbreak of hostilities in South Ossetia. The Georgian authorities condemned Putin's visit to Abkhazia, treating it as evidence of Russia's "occupation" of this territory.
According to Putin, the joint work of the security agencies of Russia and Abkhazia "will enhance safety of the tourists coming there."
Putin came "to support the president of Abkhazia," said Alexander Skakov, the head of the working group of the Research Centre for Central Asia and Caucasus of the Institute of Oriental Studies of the Russian Academy of Sciences (RAS).
Vladimir Putin "has confirmed the independence of Abkhazia and South Ossetia," believes Konstantin Zatulin, Director of the Institute for Diaspora and Integration (Institute of CIS countries), noting that Abkhazia "has serious problems associated with social stratification and growth of crime," and "worsened interethnic relations."
In his turn, Nikolai Silaev, a political analyst, said that "Moscow views Sukhumi as its important foreign partner."
Full text of the article is available on the Russian page of 24/7 Internet agency 'Caucasian Knot'.
Author: Dmitry Stateynov, Rustam Djalilov Source: CK correspondents