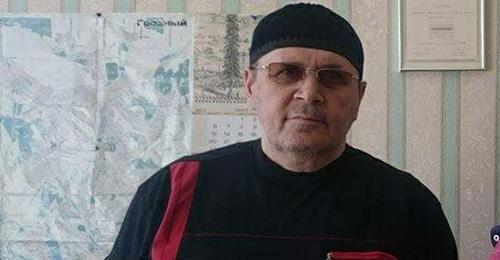 16 January 2018, 16:30
Oyub Titiev pleads not guilty in his appeal to Russian President
In his appeal to President Putin and the chiefs of the Investigating Committee of the Russian Federation (ICRF) and the Russian FSB, rights defender Oyub Titiev, arrested in Chechnya, has claimed a fabrication of the criminal case against him and forgery of evidence.
The "Caucasian Knot" has reported that on January 11, the court ruled to place Oyub Titiev into custody for two months on charges of possessing marijuana. Titiev claims that the drug was planted on him by a law enforcer. He told his advocate that law enforcers had forced him into self-incrimination and threatened to bring criminal cases against his relatives on promoting terrorism.
On Friday, January 12, Oyub Titiev wrote the appeal, addressed to President Vladimir Putin, ICRF Chairman Alexander Bastrykin, and FSB chief Alexander Bortnikov, and passed it through his advocate, the newspaper "Novaya Gazeta" reports today with publication of the appeal.
"The criminal case against me was fabricated, and the evidence of my guilt was completely falsified. I have pleaded and will plead not guilty. I want to inform you that if I somehow plead guilty to the case I am charged with, it will mean that I was forced to confess through physical influence or blackmail," the "Novaya Gazeta" quotes the Oyub Titiev's appeal as stating.
Full text of the article is available on the Russian page of 24/7 Internet agency 'Caucasian Knot'.