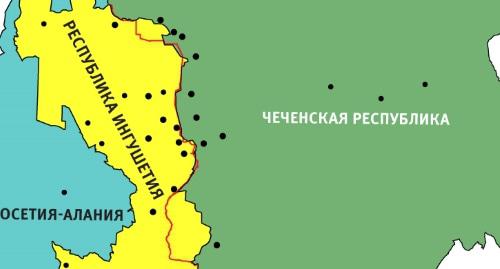 09 October 2018, 10:57
Cartographers: Ingushetia gave Chechnya much more land than received
As a result of the border agreement, Ingushetia transferred to Chechnya 26 times more territories than those received from the Chechen Republic. The "Caucasian Knot" was informed about it by cartographers after they studied the documents and official data on the former and new borders, having refuted the authorities' statements that the exchange was equivalent.
The "Caucasian Knot" has reported that starting from October 4, the capital of Ingushetia hosts the around-the-clock mass rally in protest against the change in the border with Chechnya. Protesters demand a referendum on the border issue and resignation of the head of the republic, Yunus-Bek Evkurov, who signed the border agreement with Chechnya.
At the request of the "Caucasian Knot", cartography experts analyzed the maps of the Chechen Republic and the Republic of Ingushetia, as well as the agreement on new borders, and made a new map, on which earlier and new borders are marked. By means of these maps, experts defined the area of the territories exchanged by the republics.
One of the experts, a GIS specialist, a graduate of the Department of Cartography and Geology Informatics of the Geographical Department of Moscow State University, agreed to talk to the "Caucasian Knot" only on condition of anonymity. He defined that Chechnya has acquired 26,800 hectares of the territory of Ingushetia without a single dwelling settlement; while Ingushetia received about 1000 hectares of the now former Chechen territory.
These findings were rechecked and confirmed by Sofia Gavrilova, a Candidate in Geography, a cartographer and a post-graduate student at the Oxford University.
According to her version, one of the sites is located 26 kilometres from the Magas Airport, not far from the dwelling settlement of Goragorsky; its area is about 6000 hectares. The second site captures a part of the Ingush Wildlife Sanctuary and "Erzi" Reserve, The total area of this site is about 20,000 hectares.
"It should be noted that in both cases the border moves into the territory of Ingushetia, that is, by the expense of its area," Ms Gavrilova said, confirming that "Chechnya has taken over 25 times more land than Ingushetia."
Experts failed to state what is located in the site, which has moved from Chechnya to Ingushetia.
This article was originally published on the Russian page of 24/7 Internet agency 'Caucasian Knot' on October 9, 2018 at 00:16 am MSK. To access the full text of the article, click here.