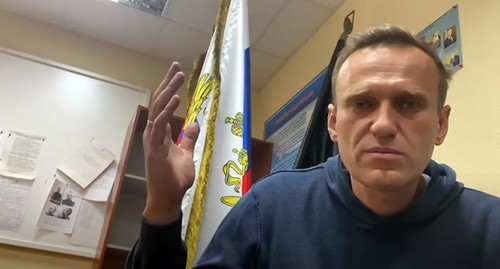 22 January 2021, 19:18
In Southern Russia, Navalny's supporters to hold protests despite law enforcers' pressure
In the regions of the Southern Federal District (SFD) and the North-Caucasian Federal District (NCFD), supporters of oppositionist Alexei Navalny decided to hold marches and pickets in his support despite the fact that the law enforcement bodies warned the activists about responsibility for unsanctioned protests.
The "Caucasian Knot" has reported that in Southern Russia, activists claimed pressure from the law enforcement bodies in connection with the planned actions in support of Alexei Navalny.
On January 17, Russian opposition leader Alexei Navalny, who flew from Berlin to Moscow, was detained at the Sheremetyevo Airport, and on January 18, the court ruled to keep him in custody until February 15, 2021.
After Navalny's arrest, the FBK has released an investigation about Putin's palace near the city of Gelendjik, Krasnodar Territory, the largest private house in Russia, which is being built for money of state-owned companies.
On January 20, the Alexei Navalny's website posted an appeal to residents of Russia to come to a rally. "On January 23 [...] we call on everyone to come to the rally. Against [...] corruption and injustice," the Alexei Navalny's website announces. It also posts a list of cities that responded to the appeal of the oppositionist's supporters, including, among others, Anapa, Sochi, Krasnodar, Astrakhan, Volgograd, Rostov-on-Don, and Stavropol.
In Volgograd, the Alexei Navalny's office disseminated on social media an appeal to oppositionist's supporters to take part in the march.
In the Krasnodar Territory, actions in support of Alexei Navalny are planned in the form of pickets in Anapa, Novorossiysk, and Sochi. A march will take place in Krasnodar.
According to the Alexei Navalny's office, Gelendzhik and Armavir will also join the all-Russian action.
"This is our country, and we should not be afraid to just walk down the streets and say no to the lawlessness that is happening in our country ... Navalny has returned to Russia because he is not afraid ... And I am not afraid. And you … Do not be afraid. Freedom is worth fighting for," Anastasia Panchenko, the coordinator of the Alexei Navalny's office in Krasnodar, wrote on her Telegram channel shortly before the oppositionist's detention.
This article was originally published on the Russian page of 24/7 Internet agency 'Caucasian Knot' on January 22, 2021 at 01:06 pm MSK. To access the full text of the article, click here.
Source: CK correspondents