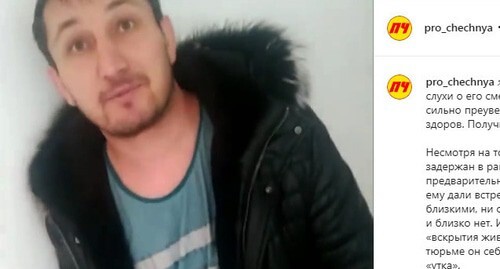 15 April 2021, 22:36
Human rights defenders find video with Gadaev unconvincing
A video depicting Magomed Gadaev, detained by Chechen law enforcers, as alive and not tortured, only increases fears for his life, say human rights defenders interviewed by the "Caucasian Knot".
The "Caucasian Knot" has reported that on April 9, 37-year-old Magomed Gadaev was deported from France to Russia. After his deportation, on April 11, Chechen law enforcers took him to Chechnya in connection with a criminal case on possession of weapons. On April 14, Magomed Gadaev refused the services of an advocate provided to him by the Human Rights Centre (HRC) "Memorial"*. On the same day, the video appeared on Instagram, in which Magomed Gadaev claimed that he was not tortured or beaten.
The video with Magomed Gadaev looks like a staged performance similar to those that "had already taken place many times with detained people, who could later even disappear without a trace in Chechnya," Oleg Orlov, a member of the Council of the Human Rights Centre (HRC) "Memorial"*, has told the "Caucasian Knot" correspondent today.
"All of a sudden, a certain video appears, and it is not clear by whom and how it was created. In the video, a disappeared person declares that everything is fine, everything is perfect," said Oleg Orlov. The human rights defender added that the release of the video resembles the cases with Tepsurkaev and Bakaev.
Meanwhile, Oleg Orlov believes the release of the video with Magomed Gadaev proves that the Chechen authorities are concerned about the situation around the detained man. "Kadyrov's people demonstrate us at least such a video, which means that they are now concerned. They are concerned about the attention to the Magomed Gadaev's case and the public outcry that has been raised. Now, at least, they have legalized his situation and even demonstrated us that everything is ok. This means there is a hope that at least, Magomed Gadaev will not be shot dead during his alleged attempt to escape," Oleg Orlov said.
The human rights defenders are not going to stop their participation in the fate of Magomed Gadaev, Oleg Orlov emphasizes.
Igor Kalyapin, the chair of the "Committee against Torture" (CaT), also believes that the appearance of the video with Magomed Gadaev on the social media is a "well-tried technique," as in the cases of Tepsurkaev and Bakaev, and there are reasons to fear for the Magomed Gadaev's life.
"On the contrary, the video suggests that he is in extreme danger. [...] They can do with him everything they want," Igor Kalyapin added.
* The organization is included by the Russian Ministry of Justice (MoJ) in the "Register of non-profit organizations performing the functions of a foreign agent".
This article was originally published on the Russian page of 24/7 Internet agency 'Caucasian Knot' on April 15, 2021 at 06:40 pm MSK. To access the full text of the article, click here.
Author: Rustam Djalilov Source: CK correspondent