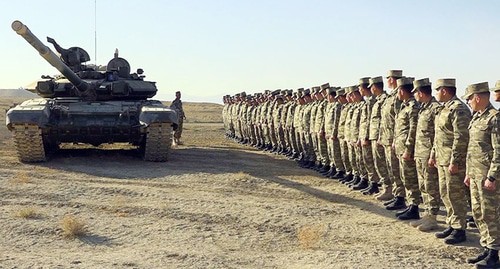 16 November 2021, 23:48
Azerbaijan accuses Armenia of attacking border posts
Two Azerbaijani militaries were wounded in a shootout after an attempt of Armenian soldiers to capture the heights in the Kelbadjar and Lachin Districts, the Azerbaijani Ministry of Defence (MoD) has informed.
The "Caucasian Knot" has reported that on November 8-15, a series of armed incidents occurred on the Armenian-Azerbaijani border and in Nagorno-Karabakh, which caused concern of three parties in Armenia. Tensions are growing and threaten with resumption of hostilities, the parties stated in their letter to the government, calling on to appeal to the UN Security Council.
On November 8, near Shushi, workers who were repairing a water pipeline were shelled. One of them died, three others were wounded. On November 13, at a checkpoint near Shushi, a grenade explosion wounded a sergeant of the Azerbaijani Army and two other soldiers. Russian peacemakers detained the man who threw the grenade – a resident of Stepanakert.
Today, Armenian militaries have launched an offensive aiming to capture the heights on the Kelbadjar and Lachin sections of the Azerbaijani border, the press service of the Azerbaijani MoD has reported.
In particular, by concentrating additional units and equipment on the positions in the Basarkechar and Garakilsi Districts (the Gegarkunik Region of Armenia, – note of the "Caucasian Knot"), Armenian militaries have attacked the posts of the Azerbaijani Army.
The positions of the Azerbaijani Army were subjected to intensive shelling from large-calibre weapons and grenade launchers, as a result of which two soldiers were wounded.
Azerbaijani militaries took response measures, after which "the Armenian militaries were disarmed and detained."
This article was originally published on the Russian page of 24/7 Internet agency 'Caucasian Knot' on November 16, 2021 at 01:03 pm MSK. To access the full text of the article, click here.
Author: Faik Medjid, Armine Martirosyan Source: CK correspondents