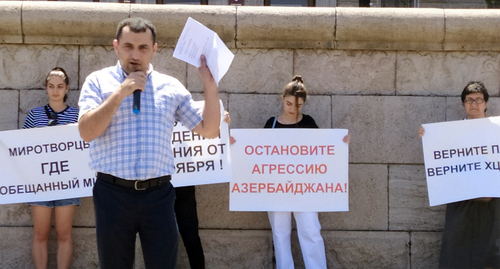 06 August 2022, 08:16
Residents of Stepanakert called on Kremlin to put pressure on Azerbaijani authorities
At a rally, more than 50 Stepanakert townspeople have urged Russian authorities to influence Azerbaijan in order to achieve de-escalation of the Karabakh conflict and ensure local residents' safety.
The "Caucasian Knot" has reported that on August 3, Azerbaijan announced a "Retribution" operation in Nagorno-Karabakh in response to the murder of an Azerbaijani serviceman. The MoD also reported that the Azerbaijani Army had captured a number of dominant heights. Baku demanded an immediate removal of Armenian militaries from Nagorno-Karabakh and threatened "even more destructive countermeasures" in case of provocations on the contact line. The authorities of Nagorno-Karabakh called for the world community to respond to Baku's actions. In the evening on August 4, the Russian MoD announced that the peacemakers registered four violations of the ceasefire regime in Nagorno-Karabakh during the day.
The Stepanakert rally was held on August 5 in Renaissance Square, in front of the residence of the President of Nagorno-Karabakh. The participants came with posters and called on the Russian authorities to demand from Azerbaijan to fulfil all the points of the tripartite agreement dated November 9-10, 2020, the "Caucasian Knot" correspondent has reported.
More than 50 people gathered by the start of the rally, Arthur Osipyan, one of the organizers of the action, the leader of the "My Right" movement, told the "Caucasian Knot" correspondent.
"After the [2020] war, Russian President Vladimir Putin said that thanks to the Russian peacemaking contingent, Armenians of Nagorno-Karabakh would live in security and with dignity. Today, we want to understand Russia's role in the region and demand from Russia to force Azerbaijan to comply with the provisions of the tripartite agreement," Mr Osipyan has stated.
This article was originally published on the Russian page of 24/7 Internet agency 'Caucasian Knot' on August 5, 2022 at 02:43 pm MSK. To access the full text of the article, click here.
Author: Alvard Grigoryan Source: CK correspondent