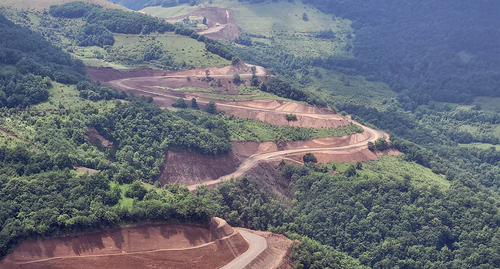 11 August 2022, 14:35
Azerbaijan announces completion of road bypassing Lachin
The construction of the road along the new route of the Lachin Corridor is over. The highway is ready for traffic, Baku has announced.
The "Caucasian Knot" has reported that amid the construction of a road, alternative to the Lachin Corridor, which was set up by the Aliev-Pashinyan-Putin agreement, the conflict has escalated. The transfer of Lachin (the Armenian name is Berdzor) under Azerbaijan's control was delayed in 2020 due to the absence an alternative road from Nagorno-Karabakh to Armenia. Residents of the communities of Akhavno, Sus and Berdzor were ordered to leave their houses until August 25, since the Lachin Corridor will be transferred to Azerbaijan.
The construction of a road along the new route of the Lachin Corridor to bypass the city of Lachin, which was launched in July 2021, has been completed, the State Automobile Roads Agency of Azerbaijan has reported.
The Ministry for Territorial Administration and Infrastructure of Nagorno-Karabakh has clarified that the part of the alternative road from Kanach Tala-Mets Shen-Khin Shen of the Shushi District of Nagorno-Karabakh to the Armenian border is ready. As to the 11-kilometre section of the road from the Armenian border to the village of Kornidzor in Armenia, a tender has been announced for the construction thereof, and soon three companies will start building this road section.
This article was originally published on the Russian page of 24/7 Internet agency 'Caucasian Knot' on August 11, 2022 at 12:26 pm MSK. To access the full text of the article, click here.
Author: Faik Medjid Source: СK correspondent