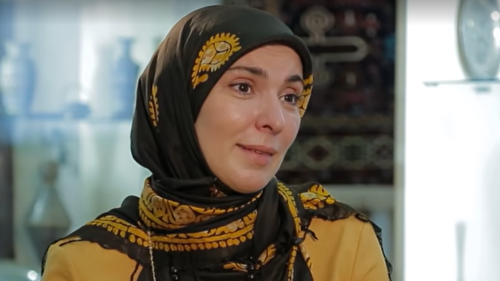 01 October 2022, 23:53
Military experts and journalists discuss Aina Gamzatova's request to postpone mobilization in Dagestan
The appeal of Aina Gamzatova to President Vladimir Putin asking to postpone mobilization in the republic and allow a half-year training of conscripts can hardly be granted, Dagestani journalists, Ramazan Radjabov and Idris Yusupov, believe. However, they differed in their assessment of how much Aina Gamzatova's public appeal could calm Dagestanis.
The "Caucasian Knot" has reported that Aina Gamzatova, an adviser and the wife of the Dagestani Mufti, stated that the young people unprepared for the military service were mobilized in Dagestan. She criticized the military actions, but she could have asked for more for the republic, some social media users believe.
Sergey Melikov, the head of the republic, has reacted to Gamzatova's appeal to the Russian president. "I absolutely support your opinion that only those who are ready to defend the Motherland should be subject to mobilization," he wrote in his Telegram channel.
The idea of a delay for training the mobilized young people can calm people down and soothe the acute conflict, Ramazan Radjabov, the editor-in-chief of the "Youth of Dagestan" newspaper, believes. However, he doubts that the idea can be implemented in practice.
Idris Yusupov, a journalist of the "Novoye Delo" outlet, has doubted that a delay could occur and help relieve tensions; he treats the Gamzatova's appeal as "political games."
Dagestan is not very suitable for creating training centres, like the special troops' military university in Chechnya, Alexander Khramchikhin, an expert, believes. At the same time, he did not rule out the involvement of religious organizations in mobilization training.
Pavel Felgengauer, an analyst, doubts that authorities will react to Gamzatova's appeal. "The presidential decree has been signed; and only he himself can change it; and he is unlikely to change anything," he has stated, also sceptical of any possibility of creating a special training centre in Dagestan, similar to the Chechen one.
This article was originally published on the Russian page of 24/7 Internet agency 'Caucasian Knot' on October 1, 2022 at 01:50 pm MSK. To access the full text of the article, click here.
Author: Naim Suleimanov Source: CK correspondent