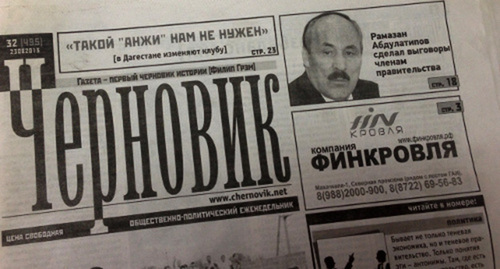 25 November 2022, 15:28
Editors of Dagestani weekly "Chernovik" claims failure of issue due to printing house's refusal
The staff of the printing house in Rostov-on-Don has refused to print a new issue of the Dagestani weekly "Chernovik" (Draft) due to pressure from the owners, the weekly's editors have reported. The new issue due to appear on November 25, is available in the electronic form only.
The "Caucasian Knot" has reported that on November 17, the editorial board of "Chernovik" stated that authorities were hindering the release of the printed version of the outlet. Journalists linked the pressure on the weekly with the position of the head of Dagestan, Sergey Melikov. After the printing house in Dagestan refused to print the weekly, it was printed and brought from the Rostov Region, Magomed Magomedov, a deputy editor-in-chief, told the story. Svetlana Anokhina and Gadjimurad Sagitov, the journalists, believe that the pressure on "Chernovik" has to do with criticism of the republic's authorities.
The socio-political weekly "Chernovik" has been published in Dagestan since 2003. The outlet was subjected to pressure immediately after the opening. At one time, all the Dagestani printing houses refused to print the weekly; and it was printed in other regions of Northern Caucasus. Criminal cases were initiated against journalists; searches were conducted at the editorial office. In 2011, Khadjimurad Kamalov, the founder of the weekly, was assassinated.
In the new issue, the editorial is devoted to possible resignation of Makhachkala Mayor, Salman Dadaev. It also contains materials about the conflict over the resignation of the former gymnasium in the village of Tsvetkovka; about falsification of expertise conclusions at the Dagestani Bureau of Forensic Medical Examination; about the struggle of residents of the Derbent District for receiving due compensations for the house that was damaged by flooding, and other materials.
Earlier, Svetlana Anokhina linked the new round of pressure on the outlet with its human rights activities.
This article was originally published on the Russian page of 24/7 Internet agency 'Caucasian Knot' on November 24, 2022 at 10:07 pm MSK. To access the full text of the article, click here.
Source: Caucasian Knot