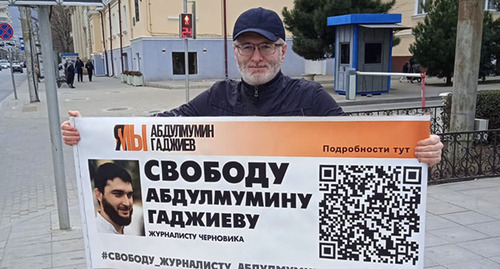 21 March 2023, 16:11
Journalists tell about aims of pickets in support of Dagestani journalist Gadjiev
Pickets in support of Abdulmumin Gadjiev remind of his case and the demand of his colleagues-journalists to release him from custody, Magomed Magomedov, one of the picketers, have stated. Law enforcers did not interfere with the pickets, but recorded the picketers personal data and took explanations from them, Idris Yusupov, another picketer, has added.
The "Caucasian Knot" has reported that Gadjiev's colleagues treat the criminal case against him as political persecution and regularly hold solo pickets in Makhachkala in support of him. On March 20, such pickets were held by Magomed Magomedov and Idris Yusupov.
Abdulmumin Gadjiev, one of the editors of the "Chernovik" outlet, Abubakar Rizvanov, the head of the "Ansar" Charity Fund, and Kemal Tambiev, an activist, have been kept in custody since June 2019 on charges of financing terrorism.
One of the main tasks of their weekly solo pickets is to remind the public and the authorities that Gadjiev has been kept at the SIZO (pre-trial prison) for four years, Magomed Magomedov has explained. According to his story, authorities are forced to respond to these pickets, at least through law enforcers' actions, who come to the venue of the pickets.
Idris Yusupov has noted the increased attention from passers-by and car drivers. According to his story, many of those who reacted to the pickets were tourists. A resident of Makhachkala named Zabibulla approached Magomed Magomedov and said that he had been following the criminal prosecution of Gadjiev from the very beginning and treats it as unfair.
He has added that he was subscribed to the printed version of the "Chernovik" outlet, and read it regularly until the suspension of the printed version.
This article was originally published on the Russian page of 24/7 Internet agency 'Caucasian Knot' on March 20, 2023 at 08:55 pm MSK. To access the full text of the article, click here.
Source: СK correspondent