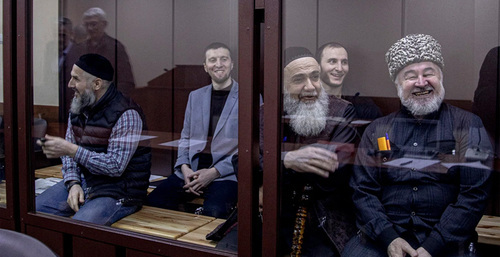 23 March 2023, 21:57
Ingush activists' defence fails to challenge judge
The Stavropol Territorial Court has refused to challenge the state defenders in the "Ingush case"; after which the defence tried to challenge the judge, but the court rejected this demand as well.
At the court hearing in Pyatigorsk, the defendants refused the services of state advocates, appointed by the court in case of absence of advocates by agreement.
On February 17, 2023, the court agreed to give the defendants additional time to study the case materials, but the new session was postponed. On February 20, the defendants were awakened in the middle of the night to be taken to court, and in response to the request of the elderly to bring them there later, the judge threatened to conduct the trial without them.
Judge Alexander Dukhin has rejected the motion to challenge the state advocates, who were appointed to the figurants in the case of protests in Magas. After that, Bashir Tochiev, one of the advocates, tried to challenge the judge; he was supported by other advocates; Magomed Abubakarov and Djabrail Kuriev, advocates, as well as defendants Akhmed Barakhoev and Malsag Uzhakhov, have supplemented his challenge, the "Memorial" Human Rights Defence Centre has reported in its Telegram channel.
The advocates' main claim to the presiding judge is in his bias and incompetence. However, the judge denied this motion either.
Let us remind you that seven Ingush protest leaders are accused of creating an extremist community. They were demonstratively sentenced to long prison terms for peaceful protest, journalists and political analysts assert.
This article was originally published on the Russian page of 24/7 Internet agency 'Caucasian Knot' on March 22, 2023 at 04:43 pm MSK. To access the full text of the article, click here.
Source: Caucasian Knot