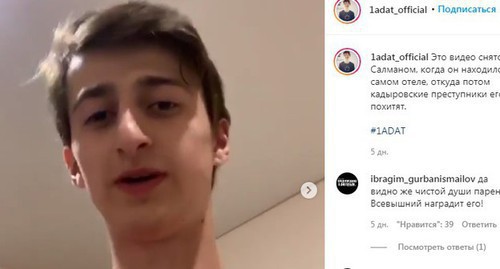 18 November 2020, 11:28
ECtHR unusually promptly responds to complaint about Tepsurkaev's kidnapping
The European Court of Human Rights (ECtHR) has communicated the complaint filed by human rights defenders in the interests of Salman Tepsurkaev, a native of Chechnya, kidnapped in Gelendjik. It has become record fast, the "Committee against Torture" (CaT) has noted.
According to Olga Sadovskaya, the head of the CaT's international legal defence division, earlier, the ECtHR had refused to apply Rule 39 to Tepsurkaev's case. Rights defenders asked the ECtHR to demand from the Russian Federation security measures to establish Tepsurkaev's whereabouts, as well as guarantees of his release and safety.
According to Ms Sadovskaya, the resumption of the check may be due to the fact that the ECtHR's attention has been drawn to the case, and the Chechen investigating bodies hurry to create the visibility of investigation.
This article was originally published on the Russian page of 24/7 Internet agency 'Caucasian Knot' on November 18, 2020 at 04:04 am MSK. To access the full text of the article, click here.
Author: Alyona Sadovskaya Source: CK correspondent