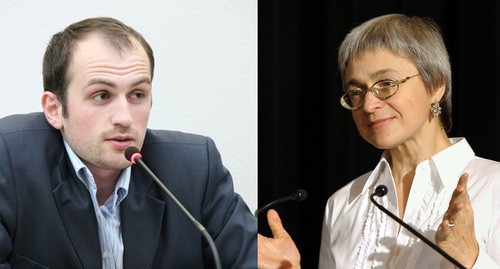 25 December 2020, 23:20
Investigation into Navalny's poisoning recalls attempt on Politkovskaya and Kuashev's death
Journalist Anna Politkovskaya survived a poisoning during her trip to Beslan, and two years later she was shot dead. Versions about poisoning were also put forward after the deaths of Kabardino-Balkarian human rights defender Timur Kuashev and Dagestani activist Mukhamed Gamzatov.
The "Caucasian Knot" has reported that in August, opposition leader Alexei Navalny fell into a coma after being poisoned at the Omsk airport. He regained consciousness in Berlin, where he was taken for medical treatment. Alexei Navalny claimed that the Russian authorities initiated an attempt on his life. Authors of the journalistic investigation came to the conclusion that the oppositionist was poisoned by a group of Russian law enforcers.
Earlier, Yaroslav Savin, a member of the political council of the "Parnas" Party branch, noted the connection between the oppositionist's poisoning and other similar cases.
"This is not the first attempt. As you know, the secret services use poisons. They tried to poison both Anna Politkovskaya and [journalist] Vladimir Kara-Murza," Yaroslav Savin told the "Caucasian Knot" correspondent.
The Alexei Navalny's case also reminded of the incident with Timur Kuashev, a Kabardino-Balkarian journalist and human rights defender, which ended more tragically. The journalist disappeared in the evening on July 31, 2014. On the other day, his body was found in a suburb of Nalchik. A sign of the injection was found on the journalist's body, but investigators claimed that the 26-year-old journalist had died not from poisoning, but from acute coronary insufficiency.
In February 2011, Mukhamed Gamzatov, a representative of the Dido Lezgin community, died in Dagestan. Shortly after his death, the Parliament of Georgia addressed international organizations with a request to monitor the investigation into the circumstances of the Mukhamed Gamzatov's death. Nugzar Tsiklauri, the chairman of the parliamentary committee for compatriots affairs, then voiced the version about the poisoning of Mukhamed Gamzatov.
This article was originally published on the Russian page of 24/7 Internet agency 'Caucasian Knot' on December 25, 2020 at 06:52 pm MSK. To access the full text of the article, click here.